Please Note: This event has expired.
We are Building Healthy Military Communities FREE Virtual Event (Military Families ONLY)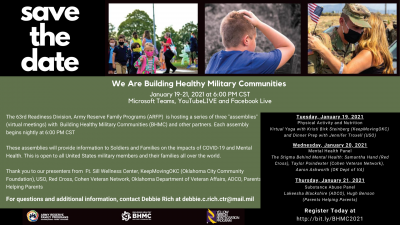 The 63rd Readiness Division, Army Reserve Family Programs (ARFP) is hosting a series of three "assemblies" (virtual meetings) with Building Healthy Military Communities (BHMC) and other partners.
These assemblies will provide information to Soldiers and Families on the impacts of COVID-19 and Mental Health. This is open to all United States military members and their families all over the world.
Thank you to our presenters from Ft. Sill Wellness Center, KeepMovingOKC (Oklahoma City
View more
ADMISSION INFO
FREE!
Open to military personnel and military families ONLY
Email: k.birk@occf.org
INDIVIDUAL DATES & TIMES*
Additional time info:
Tuesday, January 19, 2021
Physical Activity and Nutrition
Virtual Yoga with Kristi Birk Steinberg (KeepMovingOKC) and Dinner Prep with Jennifer Troxell (USO)
Wednesday, January 20, 2021
Mental Health Panel
The Stigma Behind Mental Health: Samantha Hand (Red Cross), Taylor Poindexter (Cohen Veteran Network), Aaron Ashworth (OK Dept of VA)
Thursday, January 21, 2021
Substance Abuse Panel
Lakeesha Blackshire (ADCO), Hugh Benson (Parents Helping Parents)
*
Event durations (if noted) are approximate. Please check with the presenting organization or venue to confirm start times and duration.
AGE FILTERS
Age/Demographic Filters: Family-Friendly, Older Adults, Adults (18+yo)
CONNECT WITH Building Healthy Military Communities Oklahoma (BHMC)