Please Note: This event has expired.
Water Aerobics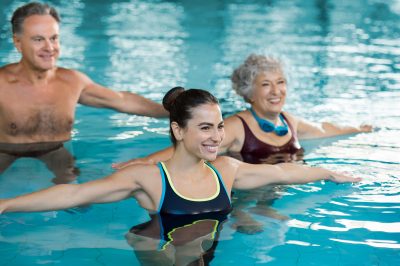 Smiling fitness class doing aqua aerobics in swimming pool. Smiling young woman with senior couple stretching arms in swimming pool. Fit mature man and old woman exercising in swimming pool.
Join us for a medium intensity workout, using water and equipment for resistance, toning muscles, increasing endurance and flexibility. This is a full body workout that combines cardio, muscle conditioning and interval training.
ADMISSION INFO
Ages: Adult 18+
Cost: $3/class or $20/session
AGE FILTERS
Age/Demographic Filters: Older Adults, Adults (18+yo)
INTENSITY FILTERS
Level of Intensity: Beginner
CONNECT WITH OKC Parks