Please Note: This event has expired.
Walk For Wellness and 5K Fun Run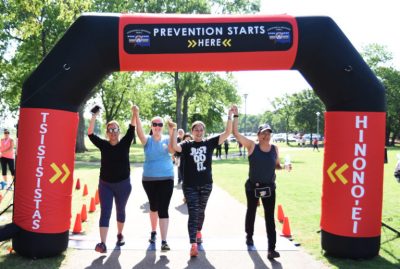 Attendees finish the walk during Oklahoma City Indian Clinic's Walk for Wellness and 5k run on May 19, 2018.
Join us for an energetic run through Route 66 Park at Lake Overholser. Those who participate will receive a t-shirt and a medal. If running isn't your speed, join us for a walk around the park instead. Patients and community members are welcome.
ADMISSION INFO
The walk and health fair and cultural activities are at no cost. Register before May 6th and receive a t-shirt. Same-day registrations are not guaranteed and t-shirt. The 5k run is non-sanctioned. The fee is $30 and included a medal and a t-shirt.
INDIVIDUAL DATES & TIMES*
Additional time info:
Health fair begins at 8:00 a.m.
5k Fun Run begins at 8:45 a.m.
Walk for Wellness begins at 9:30 a.m.
*
Event durations (if noted) are approximate. Please check with the presenting organization or venue to confirm start times and duration.
AGE FILTERS
Age/Demographic Filters: Family-Friendly, Older Adults, Adults (18+yo)
INTENSITY FILTERS
Level of Intensity: Beginner