Please Note: This event has expired.
There is also a virtual option to participate in the 10K, 5K or 1-Mile Walk wherever you'd like on the same day as the physical race! All virtual runners will receive the same items (t-shirt bib, etc.) as in-person runners and you can upload your time following your run to the registration website to be included on the leaderboard.
Outpace Cancer Race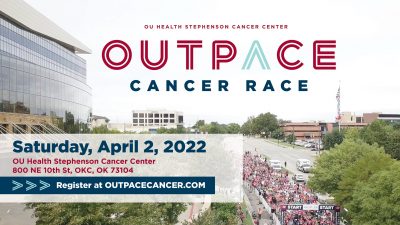 Outpace Cancer is an annual 10K/5K and 1-mile walk, hosted by the Stephenson Cancer Center, to raise funds for cancer research and to provide support for cancer patients and their families.
Our goals are to honor Oklahomans we have lost and raise funds to support families and individuals fighting cancer today. Every dollar donated supports Stephenson Cancer Center patients and stays right here in Oklahoma. Together, we can make a substantial impact on the lives of those who are battling
View more
AGE FILTERS
Age/Demographic Filters: Family-Friendly, Older Adults, Adults (18+yo)
INTENSITY FILTERS
Level of Intensity: Beginner, Intermediate