Please Note: This event has expired.
Of A Mind: Oklahoma City Spring 2022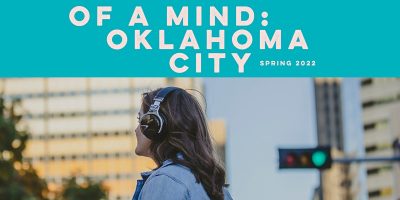 OF A MIND: OKLAHOMA CITY is an immersive audio tour designed especially for Oklahoma City's increasing vibrant urban core.
Guided by a live narrator and set to a score of local voices, stories, sounds, and music, the participants gather as a group for an outdoor site-specific walking experience. Using your own mobile device and headphones, come for a one-mile journey through parts of OKC often missed in an exploration of mindfulness, urban ecology and social interactions.
OF A MIND: OKLAHOMA
View more
ADMISSION INFO
Capacity for each performance is limited to 30 guests.
Oklahoma City Repertory Theater is proud to make theater increasingly accessible to the Oklahoma City community. We believe theater is for everyone.
$30 - Standard Rate: Our recommended ticket price
$15 - Discount Ticket Rate: Available to anyone for whom a standard-priced ticket would be out of reach
$50 - Visionary Rate: Audience members who have means to offer stronger support and the ability to invest further.
To access the Pay-What-You-Can donation option, use promo code OKC4ALL. Only 1 ticket may be purchased at a time using this promo code.
Receive a 10% discount on the Standard Rate for purchases of 5 or more tickets. To book an entire performance (30 tickets), please email development@okcrep.org.
INDIVIDUAL DATES & TIMES*
Additional time info:
OF A MIND: OKLAHOMA CITY will last approximately 75 minutes.
*
Event durations (if noted) are approximate. Please check with the presenting organization or venue to confirm start times and duration.
LOCATION
Kerr Park
102 Robert S Kerr Avenue, Oklahoma City, OK 73102
AGE FILTERS
Age/Demographic Filters: Family-Friendly, Kids (3 - 7yo), Teen (13-18yo), Youth (8-12yo), Adults (18+yo)
INTENSITY FILTERS
Level of Intensity: Beginner, Intermediate, Advanced