Please Note: This event has expired.
New Years Intention Setting Event
To start this event out we will reflect and work through 2021 and then will look at 4 areas of your life: Home, Mind, Body and Soul. We will practice some yoga and breathing as well as hold space for one another to share. At the end of our intention setting we will have a word to. come back to throughout the year and a toast to the New Year. :)
​This event will be about 2 hours.
AGE FILTERS
Age/Demographic Filters: Older Adults, Adults (18+yo)
INTENSITY FILTERS
Level of Intensity: Beginner
MORE FROM 3rd Street Yoga Studio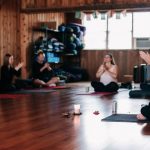 CONNECT WITH 3rd Street Yoga Studio