Please Note: This event has expired.
Nate the Great 8 Race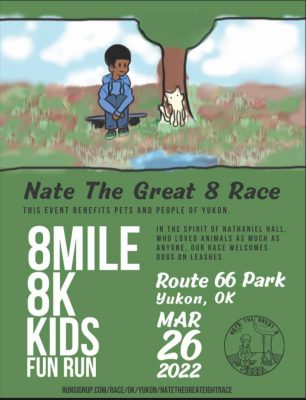 The Nate the Great 8 Race came about in response to a desire to keep the legacy of Nathaniel (Nate the Great) Hall moving forward.Nate was a fiercely independent, kind, compassionate, and mature young man with a heart full of love for all living things. He passed away May 1, 2019, but he lived his 16 years well, and his family and friends loved him endlessly.
Nate truly believed in healthy living, and as a committed vegan he always searched for ways to support animal causes in our community.
View more
ADMISSION INFO
Run/Walk Participant Registration is $20-$65 depending on event choice which includes an event shirt (sizes only guaranteed through March 6th) and medal!
Can't make it on event day but want to contribute to the cause? Register as a VIRTUAL RUNNER! Virtual Runner registration is $30 which includes an event shirt, race medal, and shipping! Virtual Runner registration is available if registered by March 20, 2022! REGISTRATION CLOSES ON MARCH 20, 2022 OR AS SOON AS ALL AVAILABLE SPOTS ARE TAKEN
INDIVIDUAL DATES & TIMES*
Additional time info:
Event times:
8 minute fun run/walk 7:30 AM
8K run 8:00 AM
8 Mile run 9:15 AM
*
Event durations (if noted) are approximate. Please check with the presenting organization or venue to confirm start times and duration.
AGE FILTERS
Age/Demographic Filters: Family-Friendly, Kids (3 - 7yo), Older Adults, Teen (13-18yo), Youth (8-12yo), Adults (18+yo)
INTENSITY FILTERS
Level of Intensity: Beginner, Intermediate