FREE Mother Goose Storytime in the Park with Mustang Public Library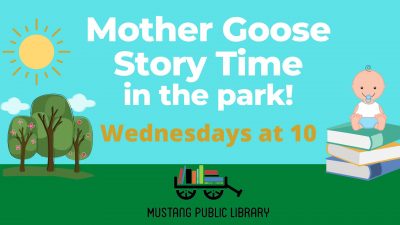 Features songs, stories, instruments, puppets and bubbles in this interactive story time.  The group meets in the grassy area southeast of the library near the farmer's market. Feel free to bring a blanket or towel to sit on.
No pre-registration is required.
INDIVIDUAL DATES & TIMES*
Oct 28, 2020 at 10:00 am - 10:30 am (Wed)
*
Event durations (if noted) are approximate. Please check with the presenting organization or venue to confirm start times and duration.
LOCATION
Mustang Public Library
1201 N Mustang Rd, Mustang, OK 73064
AGE FILTERS
Age/Demographic Filters: Kids (3 - 7yo)