Please Note: This event has expired.
Bicycle Scavenger Hunt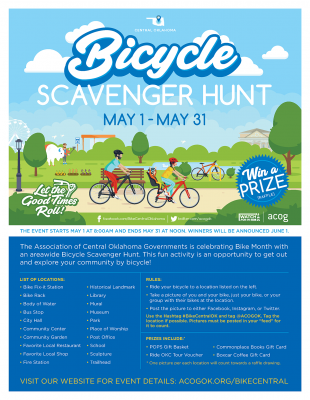 The Association of Central Oklahoma Governments is celebrating Bike Month with an areawide Bicycle Scavenger Hunt. This fun activity is an opportunity to get out and explore your community by bicylce!
Ride your bicycle to one of the following locations, take a picture of you and your bike, just your bike or your group with their bikes at the location. Post the picture on either Facebook, Instagram or Twitter. Use the #BikeCentralOK and tag @ACOGOK. Tag the location if possible. Picture must be posted in your "feed" for it to count:
Bike Fix-it Station, Bike Rack, Body of Water, Bus Stop, City Hall, Community Center, Community Garden, Favorite Local Restaurant, Favorite Local Shop, Fire
View more
INDIVIDUAL DATES & TIMES*
*
Event durations (if noted) are approximate. Please check with the presenting organization or venue to confirm start times and duration.
LOCATION
OKC
4205 Lincoln Blvd, Oklahoma City, OK 73107
AGE FILTERS
Age/Demographic Filters: Adaptive, Family-Friendly, Kids (3 - 7yo), Youth (8-12yo), Adults (18+yo)
INTENSITY FILTERS
Level of Intensity: Beginner
CONNECT WITH Association of Central Oklahoma Governments (ACOG)