Please Note: This event has expired.
2021 Fall Festival & Parade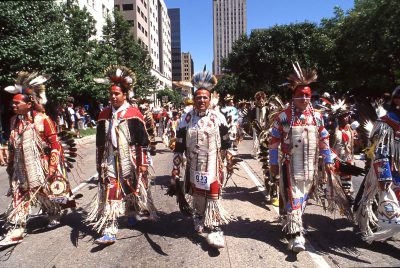 The 35th Annual Red Earth Parade has been referred to as America's most unique parade. This year, the Red Earth Parade will also signal the opening of one of OKC's newest events – FallFest on Saturday October 16. The streets of downtown Oklahoma City will be alive with Native spirit as Red Earth Fallfest celebrates Indigenous People's Day in Oklahoma City.
Red Earth Parade will feature colorful entries while spectators line the streets of downtown Oklahoma City. Parade participants may
View more
ADMISSION INFO
If you want to register for the parade please visit: https://www.redearth.org/red-earth-festival/parade/
PARKING INFO
Downtown Oklahoma City offers many affordable parking options for visitors. Parking downtown is easier than you think! Downtown Oklahoma City, Inc. provides an interactive map to help guide you in selecting parking options- http://downtownokc.com/maps
Metered parking is available on the streets around the Gardens. For a list of nearby parking garages and costs, visit www.ParkingOKC.com.
Bus Parking
The Myriad Botanical Gardens is located at Reno and Robinson in downtown Oklahoma City. All-day parking is available on Sheridan Avenue. Two-hour parking is available on S.W. 2nd and Harvey avenues.
ACCESSIBILITY INFO
The exterior grounds are ADA.
AGE FILTERS
Age/Demographic Filters: Family-Friendly, Kids (3 - 7yo), Older Adults, Teen (13-18yo), Youth (8-12yo), Adults (18+yo)
INTENSITY FILTERS
Level of Intensity: Beginner