Please Note: This event has expired.
Route 66 Park Pond Trout Clinic with ODWC!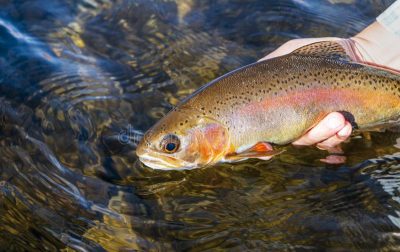 Join ODWC Fishing Coordinator Skylar St.Yves for a free trout fishing clinic at Route 66 Park Pond in Yukon.
Spinning and spincasting equipment will be provided to participants for use at the clinic as well as lures/bait. The course will cover how to target trout with lures and bait in small bodies of water. There will be a brief overview of fly fishing tactics as well.
Participants can bring their own fishing equipment for use if they so choose.
What to bring? Warm layers and jacket. Water and a snack.
ADMISSION INFO
For more information, contact ODWC Fishing Coordinator Skylar St.Yves: skylar.styves@odwc.ok.gov or (405) 990-9753.
Register by February 10th! Limited Spots available!
Contact: 405-990-9753
Email: skylar.styves@odwc.ok.gov
AGE FILTERS
Age/Demographic Filters: Family-Friendly, Older Adults, Adults (18+yo)
INTENSITY FILTERS
Level of Intensity: Beginner, Intermediate
CONNECT WITH Oklahoma Department of Wildlife Conservation